Having the right coach is key to success. A success coach is able to take you places and offer a perspective you might not otherwise have on your own. As school starts back up, we are seeing how important focus is to learning, and more importantly confidence. Believing in yourself is a foundation. What kind of thinking do you suppose Micheal Phelps possesses?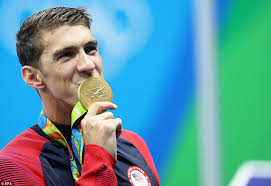 Most know that Michael Phelps is now the most decorated Olympic Athlete in history. DID YOU KNOW he was also diagnosed with ADHD as a child? Having a single-minded focus is a trait of ADHD. Michael Phelps' Mom knew her son would need a constructive, positive environment while surrounded by mentors and coaches that would gradually and continually ask more of her son. Incremental process isn't exciting, but it just so happens to be the ingredient that creates long term results.
Its NO SECRET that Martial Arts training involves focusing our mind, body and spirit. The repetition in the Martial Arts creates life changing personal growth and development. Learning to focus eyes, quiet the mind and control the body is done for brief periods in the beginning. As of training advances and through years this "attention span" of focus becomes longer and longer. The rituals, practices, culture and even the language of a dojo are what develops the participant over time: (words like: focus, confidence, concentration, discipline, self-control are common)
Interested in learning more, here's an article by UCSF Department of Psychiatry
For more information CLICK HERE
CONTINUE to have a Powerfilled day!!!
your friendly neighborhood Black Belt Energy guy