Let's kick together and let's kick together. Hours & hours sitting, whether its watching KUWTK, doing Mindcraft, Netflix, or classes, meetings and videos online, the human body still has a need to move. We are a mind, a body, a spirit all interconnected. Giving your body the chance to move changes your bodys chemistry for the better. A smile and a wave hello to someone causes levels of cortisol (the stress hormone) to go down. HECK, even THE BEST worker, needs a break! This is a great time for yours!!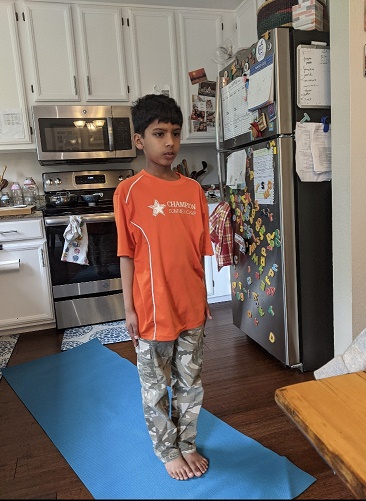 I wanted to take a moment to highlight Tanmay for really going for it! When I look at this picture, I see a young man building and strengthening the skills that will equip him to move beyond momentary challenges and crisis and stay focused! He continues to keep his studies at school current while creating a unique and personal connection to training. Its awesome seeing people exercise their mind body and spirit through training. I said this earlier this week, that even though we can't be in the dojo right now DOESN'T mean training wont still make a significant positive impact in your life. Not to mention training will help you create a feeling of normalcy...which does wonders for your mind.
WAY TO GO TANMAY!!!
I'd love to see you in action, in fact, we GAIN strength from seeing others rise when challenged. I'm looking for helpers....share a quick pic, and a story about how you're staying sharp during the SIP!!!
CONTINUE to have Powerfilled day!!!
your friendly neighborhood Black Belt Energy guy